This is an archived article and the information in the article may be outdated. Please look at the time stamp on the story to see when it was last updated.
A man who recently stole a UPS package from a Venice resident's front porch was captured on a surveillance camera committing the crime, the Los Angeles Police Department said Saturday.
Video from a home security system showed a man walking up to the victim's front porch on Tuesday, taking the package and then walking away with the box, according to an LAPD news release.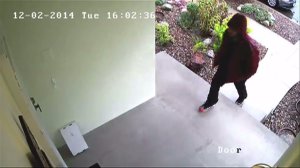 It also caught the vehicle that was possibly driven by the package thief. Police said the video showed a four-door, blue Toyota sedan drove past the residence and then turned around. The theft occurred about a minute later, the release stated.
The resident, Christian Altenbach, posted the surveillance video to YouTube with the hope that someone would recognize the person who stole the package off his porch.
Altenbach is one of several victims who have had packages stolen from outside their homes in Southern California recently.
Residents in Yorba Linda have seen a string of porch thefts, while a person was captured on a surveillance camera in Highland taking a package that had been left in front of a home.
The man police were searching for in the Venice incident was described as being possibly Hispanic, wearing a red hooded jacket, a black-T-shirt with white lettering and black pants, according to the news release.
Anyone with information about the case was asked to call Detective Chavez with the LAPD at 310-482-6335. During non-business hours or on weekends, callers should dial 1-877-527-3247.
Those wishing to leave an anonymous tip were urged to call Crime Stoppers at 1-800-222-8477.