This is an archived article and the information in the article may be outdated. Please look at the time stamp on the story to see when it was last updated.
An 18-year-old man was identified by police Tuesday after being taken into custody while hiding in a dumpster following a "running gun battle" with officers on South Los Angeles streets and the 110 Freeway.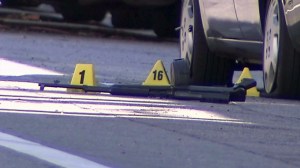 Avel Jowen Turks of Corona was being held on $1 million bail on suspicion of attempted murder in the confrontation that began early Monday. The incident left a SWAT officer with a shattered leg and shut down the 110 Freeway for hours.
Turks allegedly had a 37-year-old accomplice, who was killed in the shootout that left the Los Angeles Police Department officer injured. The coroner's office identified him as Andre Maurice Jones of Los Angeles.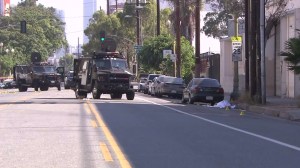 An illegal assault-type rifle with a high-capacity drum magazine was found at Jones' side, police said.
The hourslong incident began about 2:20 a.m. when officers tried to stop a 2001 Chevrolet Tahoe that was driving recklessly near Florence Avenue and Broadway, according to police.
The Tahoe fled from officers, driving away on surface streets and onto the northbound 110 Freeway, getting off and back on at Vernon Avenue.
At the end of the Vernon Avenue on-ramp, the vehicle slowed and the passenger in the Tahoe fired multiple rifle rounds at pursuing LAPD officers, who returned fire.
The Tahoe continued north on the freeway, exiting at Martin Luther King Boulevard and eventually crashing at 37th and Hill streets, where both occupants fled on foot. There, the passenger again fired at officers, who again returned gunfire.
A perimeter was set up and SWAT officers responded, finding Turks hiding behind a dumpster a block away.
He initially refused to surrender, police said, but was then taken into custody at 4:45 a.m., according to county inmate records.
A little over three hours after the initial attempted traffic stop, the other suspect allegedly fired on officers, who fired back, killing him. The SWAT officer was wounded in that shootout; he underwent surgery Monday.
Police had said it was not clear which man was driving and who was the passenger who fired off rounds from the Tahoe. Authorities had initially said the surviving suspect was 19, but his age was provided as 18 on Tuesday.
The 110 Freeway was shut down for hours while investigators collected shell casings as evidence.
The LAPD's Force Investigation Division and Robbery Homicide Division were investigating the case, which was also set to be reviewed by Chief Charlie Beck, the Office of the Inspector General and Board of Police Commissioners for compliance with the department's use-of-force policy.
Anyone with information was asked to call Force Investigation Division at 213-486-5230, Robbery Homicide Division at 213-486-6850, or the Office of the Inspector General at 213-482-6833.