This is an archived article and the information in the article may be outdated. Please look at the time stamp on the story to see when it was last updated.
NORTH HILLS, Calif. (KTLA) — A suspected drunk driver is under arrest after leading police on a chase through North Hills Thursday night.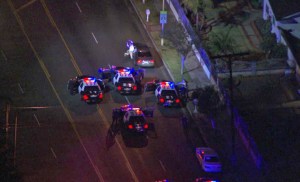 KTLA's Sky5 was overhead as the driver tossed several things out the window during the pursuit.
Police later determined that the items included drugs and burglary tools.
Authorities say the suspect has affiliations with an Asian gang and was previously convicted for a prior car chase.
There was no immediate word on what charges he's now facing.