This is an archived article and the information in the article may be outdated. Please look at the time stamp on the story to see when it was last updated.
A 47-year-old man has been arrested in connection with a fatal hit-and-run crash that occurred over the weekend in Anaheim, officials said Thursday.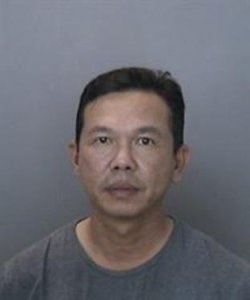 Kelven Ta was arrested Tuesday after a community member alerted authorities to a car that matched the description of the suspect vehicle in the deadly incident, Anaheim police said in a news release.
Investigators had asked the public to be on the lookout for a silver Honda or Acura that lost its driver's side mirror after fatally striking a pedestrian on Saturday, April 28.
A tip led officials to Ta's 2002 silver Acura 3.2 TLS parked in the 2100 block of West Juno Avenue, police said.
Authorities were alerted to the crash after a 54-year-old man's body was found lying in the road on Brookhurst Street, south of Ball Road, around 9:45 p.m. Saturday.
The man's injuries were consistent with being hit by a car, but the driver had fled the scene, officials said.
Police have not released the victim's name.
Ta was booked on suspicion of committing a felony hit-and-run causing injury or death and was subsequently released on $100,000, officers said.
Police said they expected the district attorney's office to file charges in the case.