This is an archived article and the information in the article may be outdated. Please look at the time stamp on the story to see when it was last updated.
A suspect was in custody Wednesday after being arrested in connection with dry ice explosions at Los Angeles International Airport that he may have considered a prank, authorities said.
Dicarlo Bennett, 28, was taken into custody at his Paramount apartment late Tuesday, a day after a dry ice explosion occurred in a restricted area of LAX on Monday night, the second such explosion in as many days, authorities said.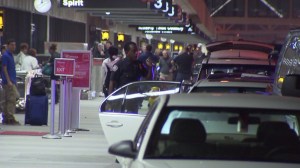 Bennett is an employee of Servisair, which provides cargo, baggage and de-icing services at LAX, the company confirmed Wednesday.
"A person familiar with the device wanted to experience constructing it and detonating it," said Lt. John Karle of the LAPD, who called the incident a "prank."
Bennett was booked into the Metropolitan Detention Center for felony possession of explosives near an aircraft, LAPD said in a news release. His bail was set at $1 million.
Bennett has reportedly confessed to setting two bombs at LAX.
Family friend Ronald Lewis described Bennett as a good, happy kid.
"Everybody in the neighborhood loved him," Lewis told KTLA. "He was so excited when he got his job at the airport."
A dry ice device exploded just before 8:30 p.m. Monday in the area of Gate 148 at the Tom Bradley International Terminal of Los Angeles International Airport. It was found in an area not accessible to the public, as was a 20 oz. bottle filled with dry ice that exploded Sunday night in an employee restroom at Terminal 2, police said.
Conflicting information about the total number of devices found was given by police Monday and Tuesday, but officials later clarified discrepancies and said three devices had been discovered.
A fizzing bottle was found on the tarmac outside the international terminal Monday night by an employee who told police he had cleaned up a similar device the previous day that had apparently exploded in the same area. Another suspected device was found on the tarmac Monday, but that turned out the be trash.
Dry ice is solid carbon dioxide that can be used to keep food cool, and authorities noted that many food vendors at the airport use dry ice. If handled with bare skin, it can burn. YouTube videos show how easy it is to make a "bomb" using pieces of dry ice and plastic bottles.
"Even though they're soda bottles, the pressure that's created inside of them is extreme," Cmdr. Blake Chow of the Los Angeles Police Department's counterterrorism bureau said Tuesday.
"It actually can blow up with as much force as a pipe bomb, so that's why we take these very seriously," he said.
KTLA's Christina Pascucci and Kareen Wynter contributed to this report.