This is an archived article and the information in the article may be outdated. Please look at the time stamp on the story to see when it was last updated.
Police arrested a man Friday in connection with a hit-and-run crash that claimed the life of a 35-year-old father as he was riding on a scooter in Silver Lake last month, officials said.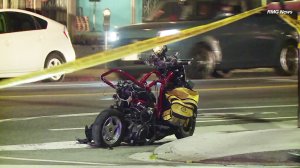 Roberto Alonso Garcia-Martinez, 33, of Echo Park was booked in connection with an unrelated warrant after investigators identified him as a suspect in the Sept. 4  hit-and-run at Glendale Boulevard and Waverly Drive, the Los Angeles Police Department's Central Traffic Division said in a written statement. Investigators tracked him down with the help of tips provided by the public.
He is accused of being behind the wheel of a 2010 BMW 5-series sedan that rear-ended a motorized scooter, police said. Esdras Velasquez, 35, of Los Angeles was thrown from the scooter and possible dragged by the car, police said.
The scooter became lodged beneath the car and was dragged for about a block, investigators said. The BMW came to a stop and briefly drove in reverse to dislodge the scooter before speeding off.
Velasquez, a father of two, was hospitalized with major head injuries, authorities said. He remained in a coma for six days before he succumbed to his injuries on Sept. 10.
The driver of the scooter, described as a relative of Velasquez, suffered non-life-threatening injuries.
His death turned the case from a felony hit-and-run investigation into a vehicular manslaughter case, police said.
Police released video footage of the suspect vehicle in hopes of generating clues. It paid off, as investigators said they received several anonymous tips that helped lead them to Garcia-Martinez.
The car believed to have been involved in the crash was found at an auto body shop in Hemet, police added.
And some of the car's parts were still preserved — despite Garcia-Martinez remodeling the vehicle after the crash, according to LAPD Detective Moses Castillo.
"He did replace the hood of the car and the front bumper but … fortunately for us, he did not destroy them and we have them in our custody," Moses said.
Moses said further forensic investigation will be done on the vehicle to see if there's DNA evidence directly linking it to the victim.
A woman who was riding as a passenger in the car at the time of the deadly crash has still not been found, and police said they want to speak with her.
Garcia-Martinez's bail for the existing warrant was set at $10,000.  Detectives plan to present their case to the Los Angeles County District Attorneys' Office on Tuesday for consideration of charges in connection the crash, police said.
It's not clear if anyone will be claiming a standing $50,000 reward offered by the city of Los Angeles for information that leads to the capture and conviction of drivers involved in deadly hit-and-run collisions. Tipsters who help catch drivers in non-fatal hit-and-run collision can collect up to $25,000 in reward money.
KTLA's Marissa Wenzke contributed to this report.