This is an archived article and the information in the article may be outdated. Please look at the time stamp on the story to see when it was last updated.
Los Angeles police have arrested a 25-year-old man in the case of a hit-and-run crash that killed a grandmother who was walking to church in the Adams-Normandie area of South L.A. last week.
The victim, Maria Reynoso, 77, was crossing Budlong Avenue at 28th Street around 7:30 a.m. Nov. 13 when a car struck her while she was in a crosswalk. The driver fled the scene, and she was transferred to a nearby hospital where she later died from her injuries.
The suspect, identified as  Brandon Rosendo Mazariego, was arrested two days later after authorities identified his white Nissan Armada through surveillance footage and with help from USC police, authorities said at a news conference Tuesday.
Mazariego confessed during an interrogation, Los Angeles Police Department Detective Ryan Moreno said.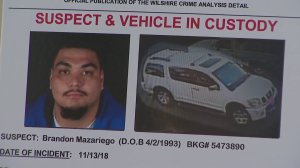 The suspect, who was on his way back from dropping his kids off at school when he crashed into Reynoso, was on probation for burglary and had a criminal record and a suspended license, Moreno said.
The victim's granddaughter, Julia Stranges, held back tears as she thanked authorities and neighbors for their help solving the case.
"My grandmother was well loved by the community, and I think, because of her legacy here, her four decades of living in this area, that everybody knew her and everyone came in a great effort to solve this case," Stranges said. "Our family will never ever be the same, but at least our family is grateful and we have some peace knowing that my grandmother's death was not in vain. She will have some justice."
Stranges recalled her grandmother's charismatic storytelling and her sense of humor, and described her grandmother as a "staple of the community" and a "woman of faith."
She said her grandmother was on her way to church when she was struck.
The granddaughter said she believes that if the suspect had stopped and helped her grandmother, she might still be alive.
"We understand accidents happen … but she was not a piece of trash … he was a human being," Stranges said. "At that point where he hit her and at the point where he saw her laying there, he didn't render aid. Maybe she would have had a chance. Maybe she would still be with us. But he didn't."
The detective urged drivers to be cautious and to make sure to stop if they get in to an accident.
"Get out of your car and render aid," Moreno said. "If this was your family, what would you want to happen?"
Mazareigo was arrested on suspicion of a felony hit-and-run. Inmate records indicate he posted $50,000 bail late Nov. 15, the same day he was arrested.
He is due in court in downtown Los Angeles on Dec. 6.