This is an archived article and the information in the article may be outdated. Please look at the time stamp on the story to see when it was last updated.
A day after the body of a man who had been reported missing was found in Santa Clarita, officials on Monday said they believed he died of strangulation and arrested a suspect.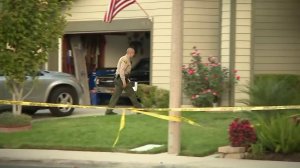 Christian Ortiz was taken into custody on suspicion of murder, the Los Angeles County Sheriff's Department announced in a news release early Monday morning.
Officials did not provide details such as Ortiz's age, residence or when he was arrested, but LASD inmate records indicated he was a 21-year-old arrested around 3 a.m. Monday in Santa Clarita.
By Monday night, coroner's officials confirmed the victim was 20-year-old UC San Diego student Brayan Rodriguez, whose family had reported him missing on Friday, two days before his body was found.
It was unclear exactly what led authorities to link Ortiz to the death, which the Sheriff's Department said occurred around 4 p.m. Sunday in the 23600 block of Via Valer.
"Based on interviews and evidence at the location, it was determined that the unidentified victim died at the hands of another and the suspect was responsible for his death," the news release states.
Authorities were called to the home the night before regarding a person not breathing.
Officials indicated they were aware of a motive in the crime but were not disclosing it. They also did not confirm the relationship between the suspect and victim.
The cause of death was believed to be strangulation, the sheriff's news release stated.
Loved ones of Rodriguez had organized a search party earlier in the day Sunday in the Valencia area. His family last saw him on Via Valer after he left on foot following an argument.
His cellphone was later located at Valencia Meadows Park, according to a flier the family distributed. But by Sunday night, a family friend had posted on Facebook to say his body had been found.
Sheriff's detectives are continuing their investigation of the incident. No further details were immediately available.