This is an archived article and the information in the article may be outdated. Please look at the time stamp on the story to see when it was last updated.
The suspect in a drive-by shooting in Anaheim that left a father of four dead may have Mexican drug cartel ties, a court document released on Wednesday showed.
The document came to light the same day that David Arzate Cabrera pleaded not guilty to murder and other charges related to the July 14 shooting on the 91 Freeway.
"Cabrera is a Mexican national citizen. He is a stated hi-level drug dealer. A known cartel related lawyer called a sheriff's narcotics investigator inquiring about bonding out Cabrera," read the document requesting Cabrera be held without bail.
Cabrera, 45, was driving next to a pickup truck on the 91 Freeway when he allegedly shot at the passenger side window, striking 32-year-old Agustin Villegas in the head.
Villegas was pronounced dead at the scene. His 42-year-old cousin was also wounded, but survived.
Two boys, ages 13 and 15, who had been sitting in the backseat were not injured. At least one of the boys was the victim's son.
Cabrera, whom police said had no known ties to Villegas, fled the scene in his vehicle after the shooting and was arrested more than two weeks later.
Cabrera allegedly had $15,000 hidden in an electronically controlled compartment in his car, according to the court document, which also stated that Cabrera likely had access to "large amounts of resources."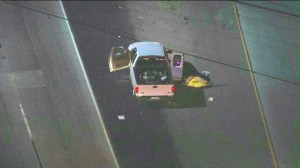 Cabrera was ordered to be held without bail on Wednesday.
He has been charged with special circumstances murder by drive-by shooting, possession for sale of a controlled substance and possession of a firearm by a felon.
At the time of his arrest, Cabrera was the target of an Orange County Sheriff's Department drug trafficking investigation, separate court documents show.
If convicted of the current charges, Cabrera faces a minimum sentence of life in prison without the possibility of parole, the Orange County District Attorney's Office stated in the news release.