This is an archived article and the information in the article may be outdated. Please look at the time stamp on the story to see when it was last updated.
A 19-year-old man has been arrested on hate-crime and other charges after allegedly stabbing two men Saturday night in Covina, authorities said.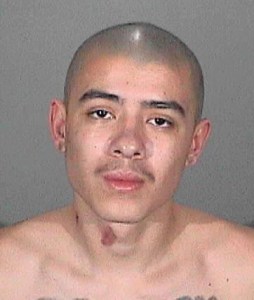 Louis Vasquez, an "admitted gang member," was being held on $500,000 bail, according to the Covina Police Department.
About 7:41 p.m., a 27-year-old man was walking through the parking lot of a shopping center in the 100 block of North Azusa Avenue (map), police said in a news release. An 18-year-old man, employed by a business at the location, was collecting shopping carts.
Both victims are black and were not known to each other. Vasquez approached them and stabbed both of them with a knife, the release said.
The 27-year-old suffered a laceration to his right shoulder and left knee, and the second victim was wounded on the back of his right shoulder, according to the Police Department.
Witnesses provided a description of the suspect and said he was last seen running northbound from the location.
A perimeter was set up in the area. Residents in the 800 block of West Edna Place (map) reported a man running through their backyards, authorities said.
Officers took Vasquez into custody in the backyard of a home and booked him on charges of attempted murder, assault with a deadly weapon, hate crime, and a gang enhancement, according to police.
The motive for the attack was unknown. An investigation is ongoing.
Anyone with information is asked to call the Covina Police Department's detective bureau at 626-384-5612, the watch commander at 626-384-5665, or Crime Stoppers at 800-222-TIPS (8477). Refer to case No. 15-608.