This is an archived article and the information in the article may be outdated. Please look at the time stamp on the story to see when it was last updated.
A suspect armed with a replica handgun died after being wounded in an officer-involved shooting outside the Inglewood police station on Friday night, authorities said.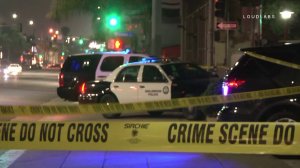 Two Inglewood police officers were driving in the area of the station at 1 W. Manchester Blvd. around 11 p.m. when they encountered the suspect who pointed what appeared to be a handgun at them, according to a news release.
"An officer involved shooting occurred and the suspect was struck by gunfire," the statement read.
The suspect was treated on scene by the Los Angeles County Fire Department but was later pronounced dead, officials said. That person was only identified by officials as a male subject.
The two officers involved in the shooting were not injured.
Upon closer inspection, the item that the suspect was in possession of was determined to be a BB gun designed to look like a .44 Super Magnum handgun, authorities stated. The replica handgun and a knife were recovered at the scene, Lt. Oscar Mejia told KTLA.
Surveillance video preliminarily showed the suspect pointing the BB gun at his head and then aiming at officers, according to officials. However, a possible motive was not known.

"That's what we're trying to determine at this time if it was a suicide by cop or what his motive was," Mejia said.
The lieutenant went on to say that de-escalation is part of the department's protocol, but it depends on the circumstances and the incident specifically.
"Officers have to look at their options and then take whatever action is appropriate," he said.
Investigators announced Saturday afternoon that a family member of the suspect contacted them earlier in the day, at about 10:45 a.m., to report him missing. That person also said the subject struggled with mental health issues and that he left a suicide note at his home, which was retrieved and booked into evidence.
The L.A. County District Attorney's Officer-Involved Shooting Rollout Team was conducting a parallel investigation, according to the news release.
Anyone with information about this case was asked to contact the Inglewood Police Department homicide section at 310-412-5246.