This is an archived article and the information in the article may be outdated. Please look at the time stamp on the story to see when it was last updated.
A man accused of setting fire to multiple houses of worship across Los Angeles County has been charged with 22 counts of vandalism, burglary and arson, some carrying hate crime enhancements, authorities announced Monday.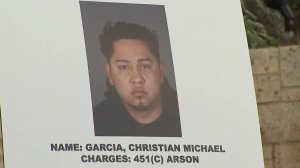 Undercover officers caught 25-year-old Christian Michael Garcia "red-handed" vandalizing Mount Olive Church of God in Christ, Los Angeles police Chief Charlie Beck said during a news conference. That led to Garcia's arrest on Jan. 25, the chief said.
He was charged with 20 felony counts on Monday, including 13 counts of vandalism of religious property; three counts of arson of a structure; two counts of second-degree commercial burglary; and one count each of attempted second-degree robbery and arson of property, according to the Los Angeles District Attorney's office. Garcia was also charged with two misdemeanor counts of vandalism under $400, which include hate crime allegations.
Authorities said Garcia most recently vandalized and set fire to the Resurrection Church in Boyle Heights and the Church of the Angels in Pasadena in January.
Investigators have linked him to similar incidents at other houses of worship in the county that happened between Nov. 25, 2016 and Jan. 25, 2018. Mayor Eric Garcetti said at Monday's news conference that Garcia could be responsible for as many as a dozen fires.
We have zero tolerance for arson and vandalism — and Los Angeles will never tolerate attacks on our sacred places. A task force of @LAFD, @LAPDHQ, and our local and federal partners have made an arrest in connection with a dozen fires at houses of worship. pic.twitter.com/fMCSoOkIq2

— Mayor Eric Garcetti (@MayorOfLA) January 30, 2018
A motive behind the incidents was unclear.
Bail has been set at $750,000, according to the District Attorney's office. If convicted as charged, Garcia faces 20 to 80 years of prison, Beck said.
The case remained under investigation by the Inter-Agency House of Worship Task Force, which includes the Los Angeles Fire Department, LAPD, Pasadena Fire Department, Pasadena Police Department and the Bureau of Alcohol, Tobacco, Firearms and Explosives.
Acts of arson against houses of worship are especially harmful, as they are a violation against a holy sanctuary. A strong partnership btwn fire & law allowed for a quick arrest of an arson suspect & hope for this Boyle Hgts church. @lafd @LAPDChiefBeck pic.twitter.com/qdPPyJZVaz

— Chief Terrazas (@LAFDChief) January 30, 2018