This is an archived article and the information in the article may be outdated. Please look at the time stamp on the story to see when it was last updated.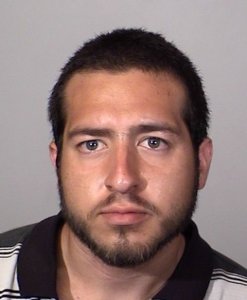 Police arrested an Oxnard man Thursday after he fired gunshots in a neighborhood, as well as and at responding police officers,  officials said.
Samuel Sapiens, 21, was ultimately arrested following a two-hour standoff, the Oxnard Police department said in a written statement.
Neighbors began calling police about 9:25 a.m., saying they heard shots being fired in the 1400 block of South Victoria, Oxnard police spokeswoman Melissa Valdez told KTLA.
When officers arrived on scene, Valdez said additional shots were heard.
Gunfire struck and shattered the window of a police car, officials said.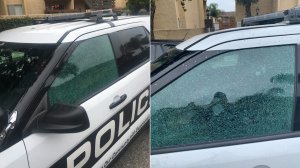 "Further investigation determined that Sapiens had fired several rounds prior to officers arriving, which struck an apartment complex across the street on Leeward Avenue, penetrating the exterior and interior walls," according to the police statement. An 18-year-old woman who was inside the apartment at the time escaped injury.
"While officers were setting up the perimeter, they were told that the suspect had access to an assault rifle," the statement said.
A SWAT team and crisis negotiators were summoned to the scene. After speaking with Sapiens for about 45 minutes, he decided to surrender.
No one was injured during the incident.
Police recovered "numerous" firearms from the home, which were registered to the suspect's brother, officials said.
Sapiens was booked on suspicion of assault on a peace officer with a firearm and shooting at an inhabited dwelling, police said.
KLTA's Jennifer Thang contributed to this story.
A suspect has been taken into custody. Our Officers are continuing to secure the scene to ensure safety.

— Oxnard Police Dept. (@OxnardPolice) June 20, 2019