This is an archived article and the information in the article may be outdated. Please look at the time stamp on the story to see when it was last updated.
The man behind a series of deadly attacks spanning from downtown Los Angeles to Santa Monica has been charged with three counts of murder and could face the death penalty if he is convicted, the L.A. County District Attorney's Office announced Wednesday.
Ramon Alberto Escobar, who allegedly fled from Texas to California following the disappearance of two relatives, was scheduled to be arraigned in court on Wednesday. But the date was continued until Nov. 8.
He stands accused of killing three people and leaving five others injured — many of them homeless individuals who had been sleeping in secluded areas, authorities said. He is also facing five counts of attempted murder and four counts of second-degree robbery, according to prosecutors.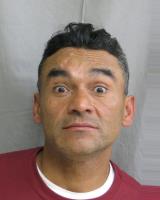 The 47-year-old convicted felon had been deported six times before beating several people in the L.A. area with a baseball bat as he robbed them, Los Angeles Police Department officials said. Investigators believe Escobar is also homeless and his main motive was robbing his victims.
A timeline given by LAPD detectives now indicates Escobar launched the deadly crime spree after being questioned by police in Houston on Aug. 30. At the time, he was a person of interest in the disappearance of his aunt and uncle, Dina and Rogelio Escobar, police said.
His cousin, Ligia Salamanca, has told reporters he was home with the two missing people when they disappeared earlier last month.
"I'm glad that it can hopefully be solved, and I want justice to be served," she said.
After being questioned, Escobar then drove from Texas to Los Angeles, arriving on Sept. 5, according to LAPD detectives. Within days, he allegedly attacked one of his first victims in Santa Monica before traveling to the downtown L.A. area.
Authorities believe Escobar attacked a person sleeping on the beach in Santa Monica on Sept. 8. The victim was left with blunt force trauma to the head. The victim survived and has been released from medical care but does not remember the incident, according to authorities.
On Sept. 10, Escobar allegedly attacked another person in Santa Monica — leaving the victim in a coma, police said.
Less than a week later, on Sept. 16, Escobar had made his way 15 miles east into the downtown Los Angeles area, according to LAPD.  That day, he is accused of attacking three different homeless men who were sleeping in secluded areas along Flower Street between 4 and 5 a.m., authorities said.
"This is a violent predator," LAPD Capt. William Hayes said at a news conference the following day.
"Without engaging the individuals at all, he just savagely attacks them with a baseball bat," Hayes said.
After repeatedly bludgeoning the men over the head and shoulders, Escobar would then rifle through their belongings, according to detectives.
Two of those men — Branden Ridout, 24, and Kelvin Williams, 59 — were left dead, authorities said. The third victim, 23-year-old Tievon Harmon, was seriously injured and put on life support, LAPD officials said. Prosecutors believe Escobar also robbed one of the men.
Authorities believe Escobar returned to Santa Monica, where he robbed and beat another man to death on Sept. 20. The victim, Steven Ray Cruze Jr., was found dead underneath the pier.
After police first identified 39-year-old Cruze as homeless, his family told KTLA he was not and just slept outside in a hammock sometimes. Relatives told the Los Angeles Times he decided to sleep underneath the pier that day after an overnight fishing trip.
Days later, on Monday, another man was found beaten and unconscious in Santa Monica. He rushed to a nearby hospital after officers responded to the scene in the 1500 block of Seventh Street. The attack left him in a coma.
Escobar was arrested later that same day in the 600 block of Broadway — about a quarter mile from where the last victim was found, police said.
At some point, Escobar also attacked an eighth victim in the downtown L.A. area, according to prosecutors.
Upon his arrest, Santa Monica police noticed Escobar had the same distinctive gait as the suspect in the deadly beatings in downtown L.A. LAPD officials previously said that suspect was "extremely bow legged" as they released surveillance video.
Santa Monica officials then contacted LAPD and a search of Escobar's 2004 black Honda CRV led to the discovery of a wooden baseball bat and bolt cutters believed to have been used in at least one of the attacks, according to investigators.
Authorities in L.A. then contacted police in Houston, where Escobar was still wanted in the disappearance of his aunt and uncle. However, he was not considered a suspect when he was first questioned on Aug. 30.
Escobar's criminal record includes six felony convictions for burglary and illegal reentry, and he has been deported to El Salvador six times between 1997 and 2011, according to U.S. Immigration and Customs Enforcement officials.
In 1988, he was first ordered removed from the country, ICE said. He also served prison time from 1995 to 2000 in connection with a burglary and was allegedly involved in an assault in November 2017, police said.
However, Escobar was released from ICE custody in January 2017 after successfully filing an appeal in his latest immigration case, the federal agency said.
When he was questioned in his relatives' disappearance last month, he didn't have any outstanding warrants and told authorities he was in the country on a work visa, Kese Smith, a spokesman for Houston police, told the Associated Press.
"We had no probable cause to arrest or book him," Smith said.
Despite his troubles with the law, Escobar's family told KTRK-TV in Houston that his now-missing aunt and uncle had opened up their home to him as he tried to get back on his feet.
Salamanca, who mother Dina is one of the two missing, told the news station that learning of Escobar's arrest in Southern California has been "very surreal."
"And of course it gives me a fear for what happened to my mom and my uncle," she said.