This is an archived article and the information in the article may be outdated. Please look at the time stamp on the story to see when it was last updated.
Just days after his aunt and uncle were reported missing in Houston, Ramon Escobar got in his Honda CR-V and drove west.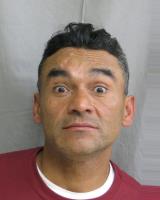 The 47-year-old native of El Salvador traveled more than 1,500 miles along Interstate 10, stopping when he hit the Pacific Ocean on Sept. 5.
Three days later, Santa Monica police found a homeless man battered and bruised on the beach. Someone had beaten the victim, causing severe injuries to his head, as he slept.
Over the course of 17 days, police allege, Escobar would approach six other men the same way — sneaking up as they dozed in secluded areas, sometimes clutching a wooden baseball bat or a pair of bolt cutters.
Read the full story on LATimes.com.