This is an archived article and the information in the article may be outdated. Please look at the time stamp on the story to see when it was last updated.
A "very dangerous fugitive" sought in connection with the killings of his 32-year-old girlfriend and her unborn child in East Hollywood last month has been added to the FBI's Ten Most Wanted Fugitives list, authorities announced Thursday.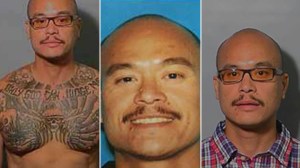 Convicted felon Philip Policarpio, 39, is accused of shooting Lauren Olguin in the head at a residence in the 500 block of North Virgil Avenue about 6 a.m. April 12, a news release from the Los Angeles Police Department stated.
Policarpio argued with Olguin, punched her in the head, and then pulled out a firearm and shot her, authorities said. They were at a friend's house.
Olguin — who was pregnant — died "instantly" after being shot, according to the FBI.
The unborn child did not survive, and an L.A. County criminal complaint against Policarpio was amended this week to include two counts of murder, said Deirdre Fike, the new assistant director in charge of the FBI's L.A. field office.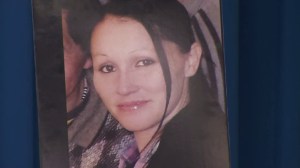 He shot Olguin in the forehead, Fike said.
A reward of up to$100,000 is being offered for information leading to the Policarpio's arrest.
The victim's mother spoke at a Thursday afternoon news conference in Westwood at which Policarpio's addition to the most wanted list was announced. She called her daughter a "good kid" and begged for help in the case.
"My biggest fear is he'll hurt someone else, and they'll end up in my shoes," she said. "You never expect to be in this position."
Policarpio was on parole for a conviction for unrelated attempted murders at the time, Fike said. He had shot into a carload of people in 2000 in Burbank, another FBI agent said.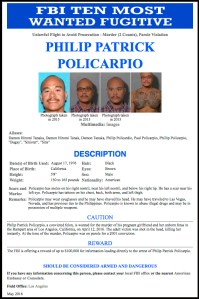 With the help of his mother, he fled to the Philippines, where he was shot by police when allegedly resisting arrest for prosecution in that case, authorities said. He was convicted of assault with a firearm by an ex-felon and narcotics violations, according to an FBI news release.
He was paroled in May 2015 after a 14-year prison sentence, authorities said.
He has ties to Las Vegas, Nevada, Florida and the Philippines, Fike said. Policarpio has "multiple spouses and children" in Florida and the Philippines, according to a federal criminal complaint charging him with unlawful flight to avoid prosecution.
He has foreign travel documents and may have fled to Mexico, Fike said. Posters will be printed in Spanish and Tagalog, in addition to English.
He also may have access to multiple weapons and may use and sell narcotics, including methamphetamines, Fike said.
The FBI describes Policarpio as being 5 feet 8 inches tall, 150 to 165 pounds, with black hair and brown eyes. He has moles on his right nostril, near his left nostril and below his right lip, according to the website.
Policarpio has tattoos on his chest, back, both arms and left thigh. The tattoo on his chest says, "Only God Can Judge Me."
He was affiliated with a gang at some point, as well as with a gang while in prison, FBI agent Scott Garriola said.
"Obviously, he's got a propensity for violence. He's a repeat offender," Garriola said.
Policarpio should be considered armed and dangerous, Fike said. Anyone who has information about him should avoid contact with him and instead reach out to the FBI, she said.
"Policarpio poses a danger to society, particularly now that he is on the run," Fike said.
His alises include: Damon Hiromi Tanaka, Damon Hiromi Tanak, Damon Tanaka, Philip Policardio, Paul Policarpio, Phillip Policarpio, "Bugsy," "Sinister," and "Sins."
A similar news conference was held in Chicago Thursday to announce the addition of Luis Macedo, a man sought in Illinois in the 2009 killing of a 15-year-old boy, to the Ten Most Wanted Fugitives list.
Policarpio and Macedo are the 508th and 507th additions to the Most Wanted list, according to an FBI news release.
Anyone with information about the Los Angeles case is asked to contact a local FBI office. The FBI in L.A. can be reached 24 hours a day at 310-477-6565.