This is an archived article and the information in the article may be outdated. Please look at the time stamp on the story to see when it was last updated.
A fugitive Jamaican gang member suspected of killing four people in a bloody gun battle at a popular South L.A. Jamaican restaurant was captured Friday, a day after he was added to the FBI's Ten Most Wanted list.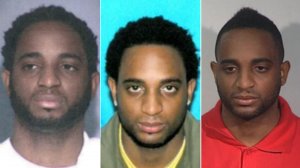 Marlon Jones is believed to be the suspect in the shooting with rival gang members that also left 10 people wounded at an Oct. 15 party at a Caribbean restaurant inside a home. Jones was captured after a car chase on the 110 Freeway near the Adams Boulevard exit while being pursued by FBI agents, said Laura Eimiller, an FBI spokeswoman.
The FBI Fugitive Task Force had received a tip earlier on Jones' whereabouts, she said.
The federal agency announced Thursday that it was offering a $100,000 reward for information leading to the capture of Jones, who is the 510th fugitive to be named to the list.
Click here to read the full story on LATimes.com.