This is an archived article and the information in the article may be outdated. Please look at the time stamp on the story to see when it was last updated.
The man accused of stabbing another man as he walked to his vehicle in Corona — leaving the victim in critical condition — has been arrested on suspicion of attempting to kill him, police said Friday.
Investigators arrested Oscar Moreno just outside his home hours after a stabbing left a 31-year-old man in critical condition, police said. The stabbing happened on Thursday, when Moreno allegedly attacked the victim as he was walking to his vehicle during a work break.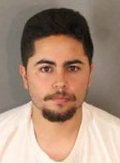 Officers and first responders arrived to the scene, at a business located at 300 El Sobrante Road, after getting a call about an employee who had been stabbed, police said. The victim was rushed to medical treatment and police said he was in critical but stable condition as of Thursday afternoon.
While police did not disclose how Moreno was initially linked to the crime, detectives did discover evidence including bloody clothing upon a search of his home, officials said.
Anyone with information can contact Detective Mario Hernandez at 951-279-3659 or Mario.Hernandez@CoronaCA.gov.