This is an archived article and the information in the article may be outdated. Please look at the time stamp on the story to see when it was last updated.
The woman found dead following the discovery of an alleged "kill list" at the UCLA shooting suspect's home in Minnesota has been identified as the man's wife, according to a local television station.
Ashley Hasti's body was located more than 12 hours after Mainak Sarkar allegedly fatally shot UCLA Professor William Klug on the university's Westwood campus before turning the gun on himself Wednesday.
Based on a note found at the crime scene, authorities performed a follow-up investigation at the former UCLA Ph.D student's residence in Minnesota, where they found an alleged hit list with multiple names on it, LAPD Chief Charlie Beck said during an interview on the KTLA Morning Show.
"Professor Klug's name was on that list, as was another UCLA professor who was alright," he said.
Beck declined to give the second person's name, but later stated the gunman was able to find the other professor.
A female's name was also on the list, prompting investigators to go to her home in a nearby town in Minnesota.  The victim was found deceased by apparent gunshot wounds, Beck said.
She was later identified as Sarkar's wife, Minneapolis television station WCCO reported, citing local officials.
It was unclear when Hasti had been killed, according to the Brooklyn Park Police Department in Minnesota, which is investigating the case along with LAPD's elite Robbery-Homicide Division.
"Early indications are the shooting occurred prior to the UCLA event," a Brooklyn Park police news release stated.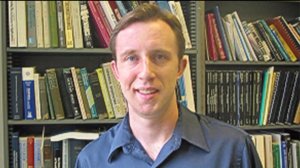 Authorities have not identified the slain woman, saying only that Sarkar is a suspect in that homicide as well, Beck said.
Sarkar, who graduated from UCLA in 2013, recently drove from Minnesota to the Los Angeles area with two semi-automatic pistols, multiple round of ammunition and several magazines in a backpack, according to the LAPD chief.
He entered the UCLA campus, went to Klug's fourth floor office and shot his former professor dead with multiple rounds, Beck said.
The weapons are believed to have been purchased legally in Minnesota.
Police are still searching for the vehicle that Sarkar drove to California, and have asked for the public's help locating it.
It is described by Beck as a 2003 gray Nissan Sentra, with Minnesota license plate No. 720KTW.
He added that investigators do not believe there are any outstanding suspects in the case.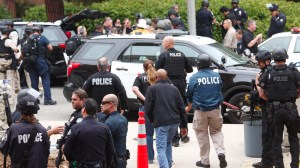 "We don't expect there to be any danger associated with that vehicle, but we do want the evidence contained," Beck said.
The police chief also released information about a possible motive in the UCLA shooting, saying it was tied to a "dispute over intellectual property where Sarkar felt that he had information released by the professor that harmed him."
UCLA has denied that claim, calling it "the workings of his imagination," Beck added.
Nearly three months prior to the deadly shooting, Sarkar took to social media to post a tirade about his former professor, the Los Angeles Times reported.
"William Klug, UCLA professor is not the kind of person when you think of a professor. He is a very sick person. I urge every new student coming to UCLA to stay away from this guy," Sarkar wrote in post dated March 10. "He made me really sick. Your enemy is my enemy. But your friend can do a lot more harm. Be careful about whom you trust."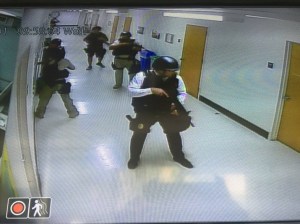 Commenting on the post, Beck stated the stuff he saw would not have necessarily led to a police investigation.
"There were no threats … there's been bashing, if you will," he said.
The chief also released new details about the note Sarkar left behind, which told authorities to go check on his cat at his Minnesota residence. It was not a suicide note, he stressed.
After obtaining a warrant and searching the suspect's home, police found the alleged kill list, which led them to the female victim's residence.
"I have not personally seen the second list yet, so I'm not going to comment on exactly what was in it, other than the three names that I mentioned," Beck said.