This is an archived article and the information in the article may be outdated. Please look at the time stamp on the story to see when it was last updated.
LOS ANGELES (KTLA) — The man accused in a deadly hit-and-run on the boardwalk in Venice pleaded not guilty to murder and other charges on Tuesday.
Nathan Campbell, 38, was charged with murder, 16 counts of assault with a deadly weapon and 17 counts of hit-and-run.
Campbell's bail was set at $1.48 million. His next court date was scheduled for Sept. 4.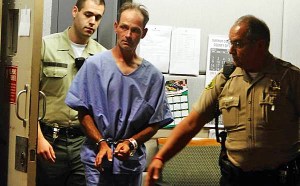 If convicted, he could face a sentence of life in prison.
Campbell is accused of using his 2008 Dodge Avenger to plow into the crowd on the Venice boardwalk on Saturday evening.
One woman was killed and 11 other people were injured.
Campbell abandoned the car on a nearby street and turned himself in at a Santa Monica police station about an hour later.
He has a long history of homelessness, petty crime and substance abuse, according to authorities.
Twenty years ago, Campbell spent several months at the Covenant House in Hollywood, which provides housing for homeless young people.
He subsequently moved to Georgia, Florida and Colorado, where he was charged with crimes including trespassing, shoplifting and reckless driving.
Then, three months ago, he moved back to Los Angeles with his Dodge Avenger, which he bought near Denver, authorities said.
Campbell's lawyer said on Tuesday that he did not believe that his client intentionally tried to hit anybody.
"He is quite distraught. He is very saddened that an individual has lost their life," public defender Phillip Dube said. "He does not believe that he is a homicidal person."
The woman who was killed in the crash was identified as Alice Gruppioni, 32, an Italian tourist who was on her honeymoon.
Gruppioni died of blunt force trauma to the head and neck, coroner's officials said on Monday. Her death was listed as a homicide.
Gruppioni's husband, Christian Casadei, suffered cuts and bruises. He was treated and left the hospital on Saturday night, according to the Consulate General of Italy in Los Angeles.
The pair married on July 20 and were supposed to board a flight to Tahiti on Monday to continue their vacation.
Instead, on Monday night, relatives of Gruppioni attended a vigil on the boardwalk in Venice.
Her father placed 32 yellow roses on a memorial for his daughter, symbolizing the 32 years of her life.
Her aunt, Katia Gruppioni, said it was hard to comprehend that her niece was gone.
"Completely surreal… I just saw her. It feels like she's pretending," she said. "She's so beautiful. She just is sleeping, you just wait for her to open the eyes."
Casadei told Italian media that the newlyweds were "happy on our honeymoon, and suddenly everything changed."
"I still can't believe it and I can't even remember how the chain of events unfolded," he said.