This is an archived article and the information in the article may be outdated. Please look at the time stamp on the story to see when it was last updated.
A woman was in custody and a man was shot after police tried to pull over a car in Boyle Heights on Wednesday, officials said.
Officers assigned to a gang investigation unit tried to stop the white sedan around 4:50 p.m. near 150 N. Myers St., an industrial area along the Los Angeles River, said Detective Meghan Aguilar with the Los Angeles Police Department's media relations team.
A male passenger ran from the vehicle, and authorities pursued him on foot. After chasing the man a short distance, at least one officer opened fire and shot him, Aguilar said.
Investigators haven't found evidence the man fired at officers, but a handgun he was believed to be armed with was recovered from the scene, according to Aguilar.
The man fell to the ground after being wounded and was taken to a hospital in stable condition, officials said.
The female driver had fled the location but was found near the 101 Freeway and Mission Road, about a block from where officers tried to pull her over, by other police units who knew the description of the car involved. Aguilar said the woman and car were both taken into custody.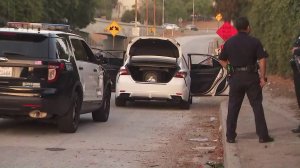 It's still unknown why officers tried to stop the car in the first place, the detective said.
"It's not a reported stolen vehicle, so what they saw that led to that traffic stop, and then the suspect running and being armed with a handgun — we're not sure what they saw, if they knew he was armed with a handgun, but they did give chase," Aguilar told KTLA.
It's also unclear what led police to use lethal force, she added.
"Investigators will interview the officers and look at body-worn video to determine what happened the moments leading up to that shooting," Aguilar said.
No officers were hurt.
Detectives were expected to remain at the scene through the evening to collect evidence and witness statements.
KTLA's Nidia Becerra contributed to this report.