This is an archived article and the information in the article may be outdated. Please look at the time stamp on the story to see when it was last updated.
A man was shot and killed while deputies were responding to a burglary call in South El Monte Sunday morning, authorities said.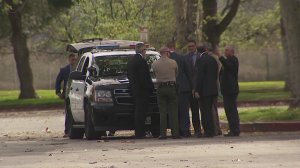 Officials were called to the 900 block of Durfee Avenue regarding a possible burglary or prowler around 8:45 a.m., according to a spokesperson and news release from the Los Angeles County Sheriff's Department.
The man, described only as being 40 years old, walked away from responding deputies, suddenly stopped and turned toward them, officials said in an updated news release.
Officials said the man "started to advance on the deputies while holding two large kitchen type knives, one in each hand."
One deputy shot the man in the upper body, officials said. He was pronounced dead at the scene.
Two 12-inch kitchen type knives were recovered next to the man's body, officials said.
No deputies were injured in the shooting.
Sheriff's homicide detectives were responding to investigate the shooting, as is the department's protocol.