This is an archived article and the information in the article may be outdated. Please look at the time stamp on the story to see when it was last updated.
An armed suspect who was shot as he tried to rob a restaurant in Santa Ana is believed to be responsible for other crimes in the area, police said Wednesday.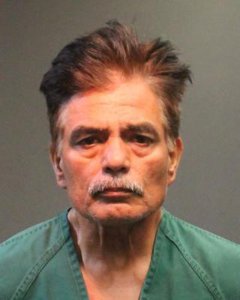 Steve Rodriguez was allegedly in the process of committing a robbery at the Cozy Corner restaurant, located at 426 N. Harbor Blvd., early last Saturday when the shooting occurred, according to the Santa Ana Police Department.
While Rodriguez was inside the restaurant, someone in a silver Honda Accord that was stopped in the drive-thru lane window shot at the suspect, police stated in a news release.
Santa Ana Police Cmdr. Michael Claborn told the Orange County Register that the shooter was a customer. He witnessed the robbery happening while waiting for his food and fired several shots, shattering the glass drive-thru window, the newspaper reported.
"It was very dangerous, one of the employees could have been shot," Claborn said.
The gunfire struck Rodriguez twice in the upper torso. The 60-year-old transient was taken to an area hospital where he was last reported to be critical condition, authorities said.
Surveillance video from inside the restaurant captured both the robbery and the shooting; the video was released by police on Wednesday.
Detectives believe Rodriguez is linked to four other crimes in the city that occurred in the days before he was shot and wounded, according to the news release.
The first, a robbery of a young couple, took place on May 20 in the 1200 block of North Jackson Avenue, according to police. The second incident, a carjacking in Rosita Park, also happened the same day.
Rodriguez is believed to have robbed a food truck at 17th Street and Hazard Avenue on the following day, investigators said.
No details were immediately available about the fourth incident, with police only saying that it took place on May 22 at the Boost Mobile store located at 17th Street and Harbor Boulevard.
Meanwhile, detectives said they were also looking for information about the individuals involved in the shooting of Rodriguez at the Cozy Corner restaurant.
Police have identified the individuals inside the vehicle as "several suspects," but did not release descriptions of any of them.
Anyone with information related to any of these cases is urged to email Robbery Detective Greaver at dgreaver@santa-ana.org or leave a tip anonymously by calling Orange County Crime Stoppers at 1-855-TIP-OCCS.