This is an archived article and the information in the article may be outdated. Please look at the time stamp on the story to see when it was last updated.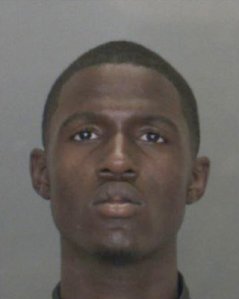 Nine individuals were arrested after video emerged of several males engaging in sex acts with a 17-year-old girl, but detectives are still searching for one outstanding suspect whose Victorville home the footage was filmed in, officials said Monday.
Tyrese Williams Lawrence, 18, was identified as a suspect in the case after an administrator at Goodwill High School contacted authorities on Nov. 13 about the video, which was circulating on social media, the San Bernardino County Sheriff's Department said in a news release.
Investigators allege that the girl went to Lawrence's home in the 12400 block of Freeport Road, where the two engaged in sexual conduct. During that time, nine other males entered the room, deputies said.
Some of them joined in the sexual activity, while others watched, and at least one pulled out his cellphone and recorded the girl, officials said.
The males passed the video among themselves, and it eventually found its way onto social media, according to the Sheriff's Department.
An investigation led to the arrest of Derick Corleone Smith, an 18-year-old Adelanto resident, and eight minors, among them four 17-year-olds, three 16-year-olds and one 15-year-old, officials said.
Inmate records show Smith was taken into custody the afternoon of Nov. 16 and released four days later, on Nov. 20.
Authorities are still searching for Lawrence, who is wanted on suspicion of possession of material depicting a minor engaging in sexual conduct, sending for distribution and matter depicting sexual conduct by a minor.
Anyone with information on his whereabouts or on the investigation can contact Victorville investigators at 760-241-2911 or Sheriff's Department's dispatch at 760-956-5001. Anonymous tips may be submitted via 800-782-7463 or www.wetip.com.