This is an archived article and the information in the article may be outdated. Please look at the time stamp on the story to see when it was last updated.
Officials in Riverside County are looking for leads after a feline was found with an arrow shot through his body.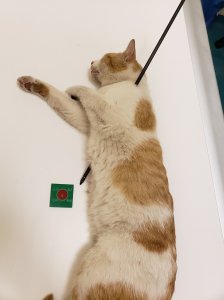 The 2-year-old cat was rushed into emergency care at the San Jacinto Valley Animal Campus after he was found by an animal control officer in Perris Friday morning, the Riverside County Department of Animal Services said.
The orange-and-white male domestic shorthair was conscious and meowing when he was brought in, but also clearly suffering, said Dr. Sara Strongin, who cared for him.
"He was alert, vocal and in pain," she said.
The arrow had entered into the tabby's left shoulder, pierced through his muscles and exited near his sternum in his lower chest area, according to Strongin.
This actually made him somewhat lucky, as he would have been in significantly worse shape had it gone into his chest cavity, she said.
A team of veterinarians gave the cat anesthesia and were able to extract the arrow. Officials said the cat appears as if he will make a full recovery.
"The question now is whether there is any internal damage that we cannot see on the initial X-ray," Strongin said.
He will have at least one other complication to deal with. His left, front leg was fractured above the elbow, and the break will either need to be repaired surgically or possibly amputated.
"The majority of the trauma was sustained in the left front leg and shoulder, as evidenced by the fracture," Strongin said. "But, still, we cannot rule out any potential internal injury."
As of 1 p.m. Friday, the feline was recovering with the help of medication, antibiotics and IV fluids.
"I think he's extremely lucky that the arrow did not do more damage," Strongin said. "It will be very satisfying and rewarding if he goes on to live a happy, healthy life in a new home."
It remains unknown who shot him. Animal control officials are seeking any information that could lead to the prosecutors of the person responsible on animal cruelty charges.
"We will assist our counterparts in Perris in any way we can to see that the cruel person who did this is held accountable," said Frank Corvino, a deputy director at the county animal services agency. "It's a heinous act when someone purposely harms any animal causing serious — and sometimes — fatal injuries."
Anyone with information can contact Perris Animal Control at 951-657-4134.