This is an archived article and the information in the article may be outdated. Please look at the time stamp on the story to see when it was last updated.
Police were asking for the public's help Tuesday in identifying a man wanted for assaulting and robbing at least one woman as she left a bank in South Los Angeles.
Surveillance video from 11 a.m. on Oct. 1 showed the man loitering around a bank located near Jefferson and Crenshaw boulevards.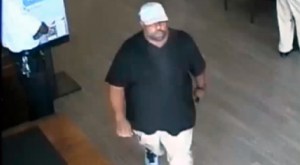 The man appeared to be scouting potential victims inside the bank, according to a news release from the Los Angeles Police Department.
The video showed the man watching a 67-year-old woman during her transaction.
When she left the bank, the man could be seen following her car as she drove to a residence in the 3000 block of 10th Avenue, the release stated.
The man could be seen casually walking past her on the street as she got out of her car.
He then quickly turned around, pushed the woman to the ground and grabbed her purse, according to the release.
The man was then seen driving away in a 90s model faded dark blue Nissan Altima, the release stated.
He was described as being black, in his 30s, standing 6 feet tall and weighing between 250 and 300 pounds with a full beard.
At the time of the crime, he was wearing a black shirt, tan shorts, a baseball hat and tennis shoes.
Detectives believed he may also be responsible for another strong-armed robbery that occurred five days earlier just blocks away from this robbery.
Both victims gave similar accounts and description of the man who robbed them.
Anyone with information was asked to call Southwest Area Robbery Detective Gerald Harden at 213-485-2562.