This is an archived article and the information in the article may be outdated. Please look at the time stamp on the story to see when it was last updated.
The Los Angeles County Sheriff's Department was asking for the public's help in locating a suspect wanted in connection with a shooting in Maywood that left one man dead and another injured on Saturday.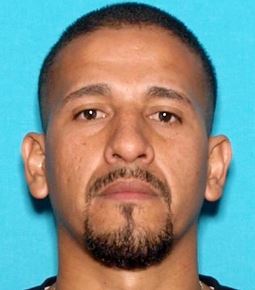 Authorities identified the alleged shooter as 33-year-old Victor Manuel Rivas. They said he is considered armed and dangerous.
Shortly after 6 p.m., deputies responded to the 6100 block of Palm Avenue for a call regarding a gunshot victim. They found two men in the parking area of an apartment complex, and both were suffering from apparent gunshot wounds, according to a news release.
Luis Maldonado, 45, was pronounced dead at the scene, and Victor Maldonado, 49, was transported to a nearby hospital in critical condition, officials stated.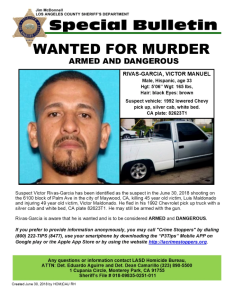 Investigators believe Rivas, who lived at the same apartment complex, is responsible for the shooting, the Sheriff's Department stated. He fled the area in a 1991 or 1992 Chevrolet Silverado pickup that had a white bed, a silver or gray cab, and was lowered, according to the news release. The truck had California license plate No. 82623T1, a sheriff's bulletin read.
Rivas was described as a Hispanic man, standing 5 feet 6 inches tall, weighing 165 pounds, with black hair and brown eyes.
Anyone with information about the suspect's whereabouts, or other aspects of this case, was asked to contact the L.A. County Sheriff's Department's Homicide Bureau at 323-890-5500.