This is an archived article and the information in the article may be outdated. Please look at the time stamp on the story to see when it was last updated.
An investigation is underway Monday after a suspected burglar died in police custody Sunday night.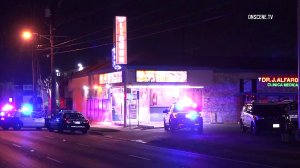 Authorities responded to an alarm call at KZ Engineering in the 2500 block of West First Street about 9 p.m., Santa Ana Police Department Cpl. Anthony Bertagna said.
As police were heading to the business, the owner called dipatch and said they could see the intruder inside a secured area on surveillance video.
Arriving officers saw a man climbing a wrought iron fence and chased him to nearby Santa Ana Liquor, Bertagna said.
Authorities initially said officers first responded the liquor store but later updated the information.
An altercation between the man and a pursuing officer occurred outside the store and then spilled into the business.
A customer inside the store then attempted to help the officer, Bertagna said.
Eventually a second officer arrived and attempted to assist the officer and the altercation again ends up outside the store.
"There is a use of force at this time ... What type of force they used to complete the arrest I do not know," said Bertagna, adding that the officers involved had not yet been interviewed by investigators.
Once in custody, the man's breathing became labored and officers began rendering aid, Bertagna said.
Medics also arrived at the scene and attempted to assist before taking the man to a local hospital, where he was pronounced dead.
The cause of death would be determined by coroner's officials, Bertagna said.
Authorities have not identified the man who died.
"To my knowledge he was not armed," Bertagna said.
No officers were injured in the incident and no shots were fired, Bertagna said.