This is an archived article and the information in the article may be outdated. Please look at the time stamp on the story to see when it was last updated.
On the same day that the coroner's office confirmed an alleged burglar who was fatally shot was not pregnant, her accomplice was charged Friday in the Long Beach incident and the accomplice's mother was arrested, authorities announced on Friday.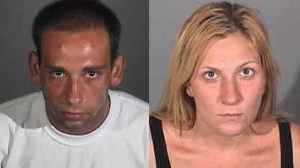 Police had previously said the Los Angeles County coroner's office was trying to determine whether Andrea Miller, 28, was pregnant when she was shot and killed during a confrontation with 80-year-old Tom Greer during an alleged home-invasion robbery in the Bixby Knolls neighborhood on Tuesday night.
Greer told police he had come home to find Miller and another man, identified as 26-year-old Gus Adams, inside his house, Chief Jim McDonnell of the Long Beach Police Department said at a news conference on Wednesday. The pair jumped on Greer, beat him, then threw him to the ground, the homeowner told officers.
He managed to get up, retrieve a gun and open fire on the pair, fatally striking Miller, police said.
Adams, who initially fled the scene, was later arrested and was formally charged in connection with the incident, the Los Angeles County District Attorney's announced on Friday.
The charges included murder, first degree residential robbery, first degree residential burglary, grand theft firearm and possession of a firearm by a felon, according to a news release from the DA's office.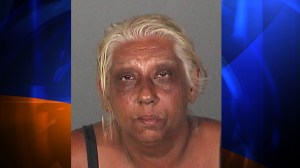 "The charging document also contains special allegations that the defendant inflicted great bodily injury and elder abuse in the commission of the crime. Additionally, the felony complaint includes two prior convictions for possession of a controlled substance in 2011 and petty theft with three priors in 2012," the release stated.
If convicted on all charges, Adams faces a maximum sentence of life in prison.
He was being held on $1.1 million bail.
Adams' mother was also arrested after police determined a third person was involved in the incident, Long Beach police stated in a release on Friday.
Ruby Adams, 49, was arrested late Thursday and booked on suspicion of robbery, according to the release.
She was expected to be charged on Monday.
KTLA's Melissa Pamer contributed to this report.