This is an archived article and the information in the article may be outdated. Please look at the time stamp on the story to see when it was last updated.
A woman was killed and another five other people were injured after a girl stole a white SUV and crashed into another vehicle in Palmdale Sunday evening, officials said.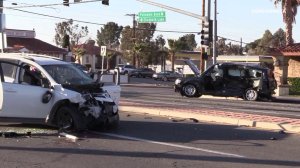 The girl, who authorities described only as a female juvenile, allegedly took the vehicle by force from the 37100 block of 47th Street East around 2:20 p.m., the Los Angeles County Sheriff's Department said in a news release.
Although deputies originally said the fatal crash occurred near the intersection of West Palmdale Boulevard and 10th Street West around 4:45 p.m., they later said the girl collided with a black SUV "seconds" after officials began chasing the car.
The exact circumstances of the crash were unclear.
Five people were in the SUV: a man, women, two teenagers and an infant, authorities said. Officials did not say whether they were a family.
Video from the scene showed both vehicle sustained heavy damage.
The victims and suspected car thief were all taken to a nearby hospital, where the woman succumbed to her injuries and died, deputies said.
Officials were unsure of the four surviving victims' and suspect's conditions.
No identifying information was released about any of the parties involved, and no further details were immediately available.
Sheriff's homicide detectives were at the scene Sunday night and are continuing to investigate the incident.
The girl was expected to face several charges, but those have not been released.
#LASD Fatal Traffic Collision & multiple persons injured. Investigation is at W. Palmdale Bl/ 10th St West, the intersection will be closed for a few hours.Please avoid area for the investigators. Thank You @PalmdaleSheriff pic.twitter.com/PKGyEJPYp9

— LA County Sheriffs (@LASDHQ) February 19, 2018