This is an archived article and the information in the article may be outdated. Please look at the time stamp on the story to see when it was last updated.
More than four years after a man on a pre-dawn jog in the Westchester area was killed by a hit-and-run driver, Los Angeles police announced the arrest of the suspected driver and her boyfriend, who allegedly helped her avoid the law.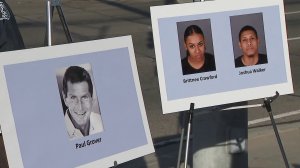 Paul Grover, 62 , died a day after being struck while jogging along Lincoln Boulevard at Bluff Trail Road, near Loyola Marymount University. He died of multiple blunt force injuries, according to the coroner's record.
The crash occurred about 4:15 a.m. Jan. 9, 2014, when a car veered off Lincoln Boulevard and struck a light pole and Grover, the Argonaut community weekly newspaper reported at the time.
Physical evidence left inside the car led police to Brittnee Crawford, according to Capt. Robert Long of LAPD's Major Crimes Division.
Crawford initially stopped after the crash and told a witness she would take Grover to a hospital, but the witness told her to wait for police and paramedics, Long said. When officers arrived, Crawford allegedly fled.
Another witness saw Crawford and described her as highly intoxicated, Long said.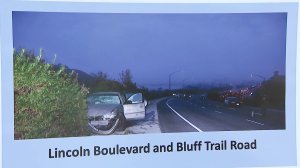 After two years spent building a case, police got a arrest warrant for Crawford in February 2016. She was charged with vehicular manslaughter and felony hit-and-run. But officers couldn't find Crawford, who apparently moved between Moreno Valley, Perris and Las Vegas.
Crawford's boyfriend, Joshua Walker, is accused of providing false information that delayed detectives, Long said.
When detectives learned Crawford was back in California, she was arrested last week. Walker was also arrested on suspicion of being an accessory after the fact.
Inmate records show Crawford, 27, was arrested Jan. 16, as was Walker, 26.
"We don't give up on these things; we keep going," Long said. "We are going to come after you, and you will be held accountable for the actions you take."
Though witness statements and evidence in the vehicle indicate Crawford was intoxicated, she cannot be charged with drunken driving because it's "almost impossible" to prove she was impaired without evidence of her blood-alcohol level close to the time of the crash, according to Detective James Dixon, who investigated the case.