This is an archived article and the information in the article may be outdated. Please look at the time stamp on the story to see when it was last updated.
A suspected DUI driver who led police on a high-speed pursuit ended up crashing into several vehicles at a busy North Hollywood intersection Thursday night.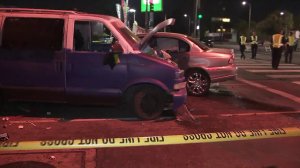 Two motor officers initially attempted to stop the driver, who was traveling in a Jaguar, after noticing the vehicle was speeding down Lankershim Boulevard with its lights off at about 9:30 p.m., Los Angeles Police Department Lt. David Ferry said.
The driver did not stop and led officers on a high-speed pursuit, which only lasted about one minute before the Jaguar crashed into three other vehicles at the intersection of Vineland Avenue and Victory Boulevard, Officer Sal Ramirez said.
The investigation showed the Jaguar ran a red light and struck a vehicle that was passing legally through the intersection, Ferry said. The Jaguar then careened into two more cars that were stopped at the red light.
Two people were taken by ambulance from the scene, including a woman who suffered a broken clavicle and the pursuit driver, who had internal injuries, Ferry said.
Kristy Orellana, who was also in one of the vehicles struck by the Jaguar, said she initially had no idea it was a pursuit suspect who hit her. "Luckily we're all alive," she said.
The suspected DUI driver was taken into custody on suspicion of DUI and evading police.