This is an archived article and the information in the article may be outdated. Please look at the time stamp on the story to see when it was last updated.
A man was detained for alleged DUI after he drove off a freeway and crashed into a Sun Valley motel, damaging four units later deemed uninhabitable, early Friday morning, officials said.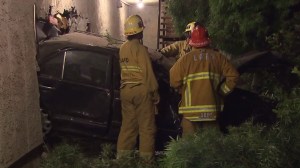 A Mercedes drove off the 5 Freeway, spun out and slammed into the Willows Motor Lodge, at 8333 Glenoaks Blvd. (map), around 1:30 a.m., officials at the scene said.
About one-third of the car was inside two occupied rooms, the Los Angeles Fire Department tweeted.
No one inside was injured, officials at the scene said.
One woman said the crash felt like an earthquake.
"I was next door reading and then I heard a bang and thought maybe someone fell down the stairs, and then I heard screaming," said Tahisha, who did not was to provide her last name. "I came outside and seen all the smoke."
People in the area pulled the driver out of the car - it was not clear if he was conscious at the time - and poured water on the smoking car in an effort to prevent a fire from starting, Tahisha said.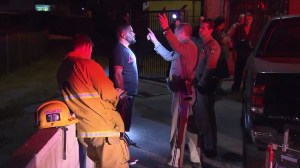 Video showed the driver taking a DUI test then being handcuffed and placed on a stretcher. He appeared awake as he was put in the back of an ambulance by fire officials who said he was detained for allegedly driving under the influence.
The LAFD later tweeted that he was in fair condition.
Four rooms at the motel were deemed uninhabitable; two due to direct damage from the vehicle crashing through its walls and two because of plumbing issues, officials said.
Building inspectors were on scene and a plumber was on the way, officials said.
One witness said a vehicle has crashed into or next to the motel before, but did not specify a date.
"Guys come down the street, come through the fence … it's a race track," said Ron, who only provided his first name.