This is an archived article and the information in the article may be outdated. Please look at the time stamp on the story to see when it was last updated.
A witness told investigators that a 14-year-old boy who was fatally shot by police in Boyle Heights on Tuesday had fired at officers first, a deputy chief for the Los Angeles Police Department said during a news conference Wednesday.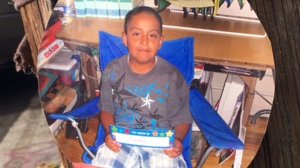 The teen, identified by the coroner's office Wednesday as Jesse James Romero, was one of two people police attempted to approach while responding to a vandalism call near the intersection of North Chicago Street and East Cesar Chavez Avenue at about 5:35 p.m., said LAPD Deputy Chief Robert Arcos.
One of the suspected vandals was detained at the scene, Arcos said, but Romero allegedly ran from the officers and turned a corner on North Breed Street.
As the teen was running, a witness saw him fire a handgun in the direction of officers, Arcos said.
The officers involved have not yet given their statements regarding the shooting, so it was unclear if they saw or heard any gunshots, Arcos said.
When the officers turned the corner onto North Breed Street, an officer-involved shooting occurred, Arcos said.
Romero was struck and pronounced dead at the scene.
A GoFundMe page set up by Romero's cousin called for justice.
"He was just like any other 14 year old boy always happy and never a trouble kid he was an innocent boy," the page stated.
Friends and family of the boy gathered at the scene throughout the day where a memorial has been built in his honor.
Ramon Gomez, a former teacher of the boy, said he was surprised to hear about the shooting.
"I never thought that he would do that," Gomez said. "For me, he's just a bright kid."
"This a 14-year-old that was killed by an officer that gets paid by us," neighbor Javier Rodriguez said.
"Here the politics of kill them first and ask questions later is what governs."
It was still unclear exactly what prompted the officers to shoot, Arcos said.
"While the loss of life is always tragic, it is particularly so when the loss involves a youth," Arcos said.
A loaded handgun was recovered and was being tested for fingerprints and to determine if it had been fired, Arcos said.
Several gangs have been documented in the area, Arcos said. The deputy chief declined to say whether the teen was affiliated with any gang.
Video from bodycams worn by the officers was being compared to witness accounts and evidence, Arcos said.
KTLA's Melissa Pamer and Cindy Von Quednow contributed to this article.