This is an archived article and the information in the article may be outdated. Please look at the time stamp on the story to see when it was last updated.
A 34-year-old Sylmar man who was suspected in a series of seven random shootings that left four people dead in the San Fernando Valley was charged Tuesday with murder and other alleged crimes in connection with three of those shootings.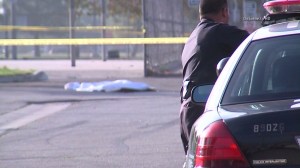 Alexander Hernandez, initially detained late Sunday on animal cruelty charges, was believed to be the shooter in three separate incidents that occurred within about an hour in San Fernando, Sylmar and Pacoima early Sunday morning, as well as in four earlier shooting incidents.
None of the victims were connected, authorities said.
"This is an individual that was out randomly shooting people. … As crazy as that sounds, that's what happened," said LAPD Deputy Chief Kirk Albanese at a Tuesday evening news conference. "I don't know what his motive may have been."
Hernandez was taken into custody following a standoff with SWAT officers at a home in the 13700 block of Kismet Avenue about 8:30 p.m. Sunday, when police said he was being held on suspicion of animal cruelty in the fatal shooting of two dogs.
Then, on Monday evening, he was named as a suspect in the three Sunday shootings, and Los Angeles police and the Sheriff's Department announced they were investigating whether he was connected to three other early morning shootings that occurred last week.
He was expected to be charged with other shootings in coming days, authorities said Tuesday evening. Some 70 detectives from multiple agencies were working the case.
"Nothing makes a homicide investigator's heart beat faster than realizing he has a serial killer," said Sheriff's Department Chief Bill McSweeney. "The timeline here was very rapid, a little different than what we're used to seeing … but this man is and was a serial killer."
Hernandez was charged with capital murder in the Aug. 21 death of Gildardo Morales, 48, who was fatally shot while driving his pickup truck in Pacoima, according to the Los Angeles County District Attorney's Office.
He was also charged with allegedly firing on a husband and wife a day later as they were driving in West Hollywood in an incident that the Los Angeles County Sheriff's Department had said was being investigated as possibly linked to the San Fernando Valley shootings. The couple was not injured.
The third shooting occurred Hernandez was charged with occurred Aug. 23, when he allegedly shot three dogs at a home in Pacoima, killing two of them, according to the DA's office.
The next day, Sunday, three more random shootings occurred early in the morning.
At about 5:50 a.m. Sunday, a family of five on the way to church was shot at inside their SUV in the 1400 block of Celis Street in San Fernando, police said.
A woman who used a wheelchair was killed. Identified by neighbors as Mariana Franco, the victim was 23, according to the county coroner's office.
The woman's parents, Jose and Beatriz Franco, were also struck by gunfire and were critically injured. The couple's two other children were in the SUV and sustained minor injuries.
About 45 minutes later, an unidentified 29-year-old man was fatally shot while collecting bottles and cans at the Sylmar Recreational Center in the 13000 block of Borden Avenue, Sylmar.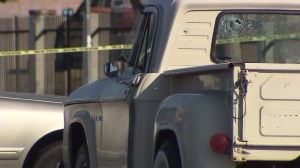 The third victim, a 59-year-old woman identified by friends as Gloria Esperanza Tobar, according to the Los Angeles Times, was found shot and killed minutes later. She had been sitting in her car outside a church in Pacoima in the 12900 block of Fillmore Street.
The Los Angeles Police Department had placed a "security hold" on the cases, preventing the coroner's office from confirming the victims' identities.
Police were also investigating whether Hernandez was the gunman in the Aug. 20 shooting of a female motorist who was left in critical condition after another driver fired into her car on an off-ramp in the Atwater Village area.
For the incidents on Aug. 21, 22 and 23, Hernandez was charged Tuesday with one count of murder with the special circumstance of shooting at an occupied vehicle, two counts of attempted murder, one count of shooting at an occupied vehicle and three counts of animal cruelty, according to the DA's office.
He was also charged with two counts of discharge of a firearm with gross negligence, one count of possession of a firearm by a felon and possession of ammunition.
According to the criminal complaint, Hernandez has been convicted of possession for sale of methamphetamine, possession of a controlled substance with a firearm and possession of a firearm by a felon.
 The special circumstance of a drive-by shooting makes Hernandez eligible for the death penalty, and DA's office stated. Prosecutors planned to decide later whether to seek the death penalty.
KTLA's Kacey Montoya, Jim Nash and Tracy Bloom contributed to this article. 
More Video: