This is an archived article and the information in the article may be outdated. Please look at the time stamp on the story to see when it was last updated.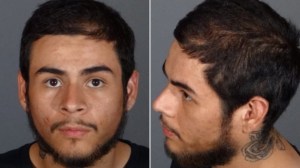 A man believed to be the hit-and-run driver who fled the scene of a collision that left two people dead in South Gate was taken into custody Tuesday, police said.
Bryan Rojas was arrested by South Gate Police Department detectives, according to a brief statement on the city's website.
Rojas, 22, was wanted in connection with a crash Saturday near the Town Center Plaza shopping mall. He allegedly fled on foot from a vehicle that was driving fast when it struck a turning car.
The two-car collision left Lester Larios, 55, and Angie Ruiz, 15, dead. Five others were hospitalized, three of them critically.
A warrant was issued for Rojas' arrest.