This is an archived article and the information in the article may be outdated. Please look at the time stamp on the story to see when it was last updated.
A man suspected of a killing in Woodland Hills last week was detained in Germany on Saturday, the Los Angeles Police Department announced Monday.
The suspect, 22-year-old Sohrob Morshedi, stands accused of shooting Dexterkane Justice James, also 22, before running him over with a vehicle on the night of Oct. 23.
Morshedi, a resident of the San Fernando Valley, was found and detained by authorities in Munich just as he was exiting a plane that had departed from Mexico, LAPD officials said.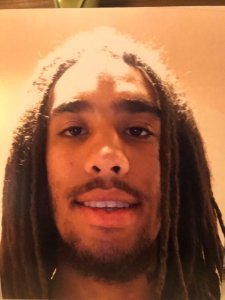 The night of the killing, officers were called to the scene in the 5200 block of Royer Avenue around 8 p.m.
There, they found an unconscious man lying in the street. First responders were called in but he was pronounced dead at the scene.
Investigators believe Morshedi shot James several times before running him over with a vehicle, according to LAPD. He then allegedly stole the victim's vehicle and fled.
Witnesses described hearing a number of gunshots. Tom Allison, who lives in the neighborhood, said he could hear shots ring out followed by the squealing sound of a car speeding away.
Another witness said he saw a dark gray Dodge Challenger with the driver's side door open and what appeared to be some sort of argument.
"Some guy was standing over and he was like shouting," the witness said.
Two to three minutes later, the witness said, he heard gunfire break out.
Authorities initially said the deadly incident appeared to possibly be a carjacking but LAPD officials later said they believe the killer and victim may have known each other.
Upon searching the area, officers found the suspect's vehicle several blocks away and abandoned, police said.
Morshedi was taken into custody on Saturday on a Ramey warrant, which is issued if there's probable cause to take someone in but the case has not yet been submitted to the district attorney's office.
He was detained with assistance from German police and the FBI. LAPD detectives are currently working the case with the help of those authorities and the Los Angeles County District Attorney's Office.
Meanwhile, a GoFundMe campaign has been set up in James' memory. The page, which spells his first name as Dexter Kane, gives a brief account of his life.
According to the webpage, the 22-year-old moved to Woodland Hills with his mother and younger brother from Albuquerque, New Mexico when he was in 7th grade. He recently landed a new job and made plans to live with friends, the GoFundMe page said.
"He was an amazing brother, friend, son, grandson, beat-maker, lyricist, visual artist, basketball player, skateboarder, fashion designer, trend-setter and so much more," the webpage said. "He inspired people of all ages in so many different ways and had a smile that could light up any room."
Anyone with information is asked to call Detective Dave Peteque at 818-374-1934.  Anonymous tips can be called in to L.A. Crime Stoppers at 800-222-8477 or by visiting www.LAPDOnline.org.
KTLA's Kristina Bravo contributed to this report.