This is an archived article and the information in the article may be outdated. Please look at the time stamp on the story to see when it was last updated.
Just hours after police announced the remains of a 25-year-old actress missing for over a month were believed to have been found in Northern California, friends and loved ones of the young woman gathered outside her Hollywood apartment building for a candlelight vigil.
The body of Adea Shabani is believed to be the remains discovered in a shallow grave up north, Los Angeles Police Department officials announced Tuesday.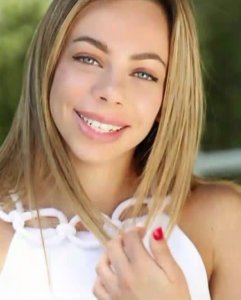 At an afternoon news conference, LAPD officials also confirmed they think 33-year-old Christopher Spotz — a man who they say was involved in an intimate relationship with her — was somehow involved in the missing woman's death before he fatally shot himself, Capt. William Hayes said. He killed himself following a pursuit in the Corona area last Thursday.
In a news release, LAPD called him a "person of interest."
Despite what a friend told KTLA earlier, authorities have not positively identified the remains as Adea Shabani's. A cause of death is also under investigation, though police said they suspect she was the victim of a homicide.
The news comes after officials said Tuesday that LAPD detectives had responded to Nevada County to investigate a suspected shallow grave amid their search for the missing woman.
The grave site was found on the banks of Dry Creek in the Spencerville Wildlife Area, in an area about 50 miles north of Sacramento, according to a statement from the Nevada County Sheriff's Office. LAPD had contacted the office Monday to notify sheriff's officials that they were working an active missing persons case in the area.
Detectives from LAPD and the Sheriff's Office, as well as anthropologists from Cal State Chico responded to the scene, where they worked to determine if there were human remains buried at the location and whether they were tied to an active missing persons case, the statement said.
Earlier, a source close to the investigation told KTLA sister station KTXL in Sacramento that remains were found at the location, and were possibly those of the aspiring actress who vanished last month under suspicious circumstances.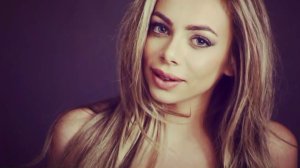 Shabani, an acting student who moved to L.A. from Macedonia, was last seen near her Hollywood apartment on Feb. 23, according to police. Surveillance video obtained by the LAPD showed Shabani and Spotz in an elevator in her apartment that day.
Concerned friends reported her missing two days later, after she failed to show up for an important acting class and stopped responding to calls or text messages. Her mother flew out from Macedonia as friends canvassed the area in a frantic and desperate search.
Then, last Thursday, Spotz shot and killed himself off the 91 Freeway in Riverside County after a lengthy police chase involving a Toyota Tacoma, authorities said.
Shabani was apparently last spotted in the Tacoma, LAPD spokeswoman Rosario Herrera told the Los Angeles Times.
The California Highway Patrol said the pursuit suspect was possibly tied to a homicide in Los Angeles County, but did not elaborate on the case.
Spotz attended the same acting school as the missing woman, friends said.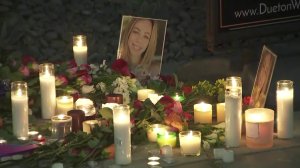 Spotz told police he was traveling to Northern California with Shabani when the two had an argument in Santa Clarita and he let her out of the vehicle, Hayes said. The captain said Spotz had at one point retained an attorney and that the investigation into Shabani's disappearance also took them to homes in Northern California and Colorado where Spotz has family.
Investigators had previously searched the Lake of the Woods wildlife area in Nicolaus, California to no avail before they found the remains in Nevada County, Hayes explained.
As friends and family grappled with the news Tuesday, some gathered outside the beloved actress' apartment building in Hollywood later in the evening. A small memorial bearing her photo, surrounded by candles and flowers, could be seen before a row of people gathered for a candlelight vigil.
"I think the only thing that's easy about tonight is knowing that we're gonna be able to know where Adea is, and you know, she's finally going to be able to rest in peace," said a friend named Angel Allaf.
He said Shabani went to Sacramento with Spotz as she was "under the impression" Spotz' uncle had died.
"Justice hasn't been served," Allaf said. "We believe that he took the easy way out."
Another person attending the vigil addressed a small crowd, saying Shabani was "so generous" and "so kind."
"She used to open her heart to just anybody that needed help," he said.
Meanwhile, Jayden Bryant, a private investigator looking into Shabani's disappearance, said the possibility that other people may have been involved is still being investigated.
A friend of Spotz who spoke with KTLA Monday night said he was unaware of a romantic relationship between Spotz and Shabani, and was under the impression that Spotz had a fiancee who lived outside the city.
The friend, who asked not to be identified, also went to the Stella Adler Academy of Acting.
"When I first heard that he had possibly been the one to have done this, I was just like, 'This is not the Chris I know,'" the man told KTLA.
He described Spotz as "funny, could be the life of the party if he needed to be, or could be in the back if he needed to be. He was whatever you needed at that moment."
Police have not released a motive.
Anyone with information about the case is urged to call LAPD's Missing Persons Unit at 213-996-1800, or 877-527-3247 during non-business hours or on weekends. Anonymous tips can also be left through L.A. Regional Crime Stoppers by dialing 1-800-222-8477 or going directly to http://www.lacrimestoppers.org.
KTLA's Kimberly Cheng and Cindy Von Quednow contributed to this story. 
Friends and family holding a vigil for missing actress Adea Shabani. Authorities believe it was her body that they found #Hollywood pic.twitter.com/oi2AbNl7dE

— Kimberly Cheng (@KimberlyChengTV) March 28, 2018
People lay flowers, prayed, wrote messages and took a moment of silence for Adea Shabani who went missing in Feb. The suspect, her boyfriend, killed himself after leading police on a chase. #hollywood pic.twitter.com/ZKnZBOwvW9

— Kimberly Cheng (@KimberlyChengTV) March 28, 2018