This is an archived article and the information in the article may be outdated. Please look at the time stamp on the story to see when it was last updated.
A suspected smuggler with opium paste taped to his buttocks "like implants" was arrested last week while driving on a rural highway in Imperial County near the Salton Sea, Customs and Border Protection officials said Monday.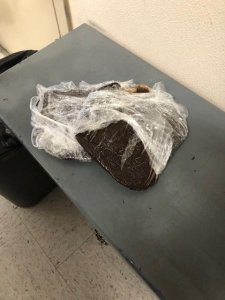 The 28-year-old U.S. citizen pulled up to a Border Patrol checkpoint on State Route 86 east of Ocotillo Wells on Wednesday, CBP spokesman Jose Enriquez Jr. said.
While the man waited to approach the Border Patrol agent stationed at the checkpoint, a drug-sniffing dog zeroed in on his SUV, prompting agents to direct him to the secondary inspection area, Enriquez said. While searching the car and the driver, agents discovered more than 2.2 pounds of opium paste taped to his buttocks.
"It looked like implants," Enriquez said. "It was under his pants and above his underwear."
Read the full story on LATimes.com.