This is an archived article and the information in the article may be outdated. Please look at the time stamp on the story to see when it was last updated.
A suspected stolen vehicle driver was struck and killed on the 101 Freeway in Boyle Heights Wednesday morning, prompting officials to temporarily shut down all northbound lanes.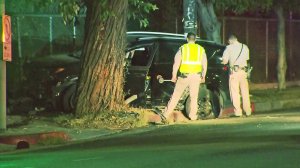 The incident began about 3 a.m. near East Olympic Boulevard and South Downey Road in East Los Angeles when officers attempted to stop a black Toyota SUV that had possibly been stolen, said Officer Francisco Villalobos with the California Highway Patrol.
Officers followed the vehicle onto the northbound 5 and then the northbound 101 freeways before the driver exited at East 4th Street and struck a tree.
The driver ran from the wrecked SUV onto the 101 Freeway and was fatally struck by another vehicle, said Villalobos.
The identity of the driver was not immediately released.
A SigAlert was issued just after 3:30 a.m. for the closure of all lanes on the northbound 101 Freeway at 4th Street, according to the CHP's traffic information log.
The northbound 5 to the northbound 101-transition road was closed during the investigation, as was the westbound 60 to the northbound 101-transition road, according to the CHP.
The CHP tweeted that all lanes on the northbound 101 Freeway had reopened just before 6 a.m.
SIGALERT CANCELLATION IN LOS ANGELES: NB US-101 AT 4TH ST ALL LANES OPEN - IN PROCESS OF OPENING ALL TRANSITION ROADS

— CHP PIO - LA County (@CHPsouthern) September 14, 2016
KTLA's Stephen Acosta contributed to this report.