This is an archived article and the information in the article may be outdated. Please look at the time stamp on the story to see when it was last updated.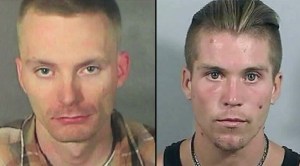 NORTHRIDGE, Calif. (KTLA) — Prosecutors filed charges Wednesday against two men suspected in the kidnapping and assault of a 10-year-old Northridge girl.
The Los Angeles County district attorney's office charged 30-year-old Tobias Dustin Summers, who is still on the run, with kidnapping a minor under 14, first-degree burglary with a person present and nearly three dozen counts of sexual assault.
Prosecutors say that Summers broke into the home and used a knife to abduct the girl.
They allege that Summers repeatedly assaulted the victim over a 12-hour period.
If convicted, Summers is facing multiple life terms in prison.
29-year-old Daniel Martinez, of West Hills, was also charged Wednesday with felony counts of kidnapping a minor under the age of 14 and first-degree burglary.
Martinez was arrested Sunday about two miles from the girl's home.
On the night of the kidnapping, Martinez was allegedly waiting in a car when Summers emerged from the girl's home with the 10-year-old victim.
Martinez allegedly drove a short way before leaving the car.
The victim was found nearly 12 hours later at the corner of Canoga Avenue and Oxnard Street, barefoot and with visible injuries.
Prosecutors are asking that his bail be set at $150,000. If convicted, Martinez is facing up to 12 years in state prison.
Meanwhile, in the search for Summers, Detectives say it's possible he could be in the San Diego area. He may also have changed his appearance by shaving his head.
San Diego police have distributed a flier warning that Summers should be considered armed and dangerous, and asking anyone who sees him to call 911 immediately.
On Saturday, investigators seized a red Pontiac registered to Summers.
Summers is a parolee with a lengthy rap sheet, including charges of kidnapping, robbery, explosives possession and petty theft. He is not a registered sex offender.
LAPD officials said he was released from custody in July 2012 under a prison realignment program to reduce overcrowding.
The program transfers some inmates from state prison to county jail to ease overcrowding.
It also means that, when they're released, they are no longer under a stricter state parole system, but rather, a county probation system.
Police say the girl was abducted from her home sometime between 1 a.m. and 3:30 a.m. last Wednesday.
The girl told police she was taken to several locations, including a vacant house and a storage facility, all within blocks of each other.
The 10-year-old was found just before 3:00 p.m. Wednesday near Oxnard Street and Canoga Avenue.
It's believed she was dropped off at Kaiser Permanente Medical Center in Woodland Hills, about six miles from her home.
She was seen wandering in a nearby parking lot and recognized by a bystander, who pointed her out to police on patrol.
Police and fire personnel were called, and they transported the girl by ambulance to West Hills Hospital to be checked out.
Authorities said she was in shock, and was suffering from facial bruising and lacerations.
She was barefoot and was not dressed in the same clothing she was last seen wearing at home.
Detectives have said they are not sure why the girl was targeted.
KTLA is no longer identifying the girl by name or in images that had been released by authorities.
Anyone with information on the case is asked to call the LAPD hotline at 213-486-6890.