This is an archived article and the information in the article may be outdated. Please look at the time stamp on the story to see when it was last updated.
RANCHO PALOS VERDES, Calif. (KTLA) — Police are searching for two suspects in a brazen home invasion robbery in Rancho Palos Verdes Tuesday night.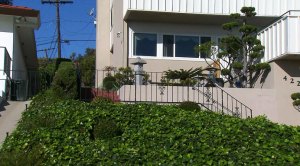 It happened around 8 p.m. at a home in the 4200 block of Mira Leste Drive.
89-year-old Nob Kubota, his wife and their daughter were home at the time.
Kubota said there was a knock at the door, but when he looked through the peep hole, he didn't see anyone.
Thinking that perhaps a package had been dropped off, he opened the door, and the suspects forced their way inside.
They made the family lie on the bed in the master bedroom while they ransacked the house for several hours.
"They kept saying, 'Where's your money? We're going to take your wife if you don't tell us where it's at,'" Kubota recalled.
He said the suspects took about $3,000-$4,000 in cash, as well as valuable jewelry, including wedding rings. They also took a rare coin collection worth over $100,000.
After the suspects were gone, Kubota called 911 from a neighbor's house.
"We're lucky to be alive, I think, because the way they come barging in and knock you down…" he said.
Kubota said he was not seriously hurt, but he was roughed up a little. He said his ear was ringing from being hit in the head.
Police said the suspects wore gloves and seemed to know what they were doing. They may have targeted the home.
Anyone with information is asked to call the L.A. County Sheriff's Department.