This is an archived article and the information in the article may be outdated. Please look at the time stamp on the story to see when it was last updated.
After a daylong search and pursuit on Thursday, Torrance police fatally shot a man suspected of setting fire to his mother's home and to an apartment where his 2-year-old son was left to burn, according to police.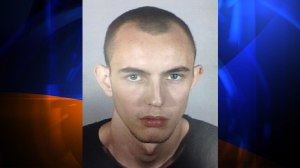 Police confirmed that Asa James Dolak, 19, was shot dead at Madrona Middle School by patrol officers who had chased him briefly on foot.
He was bleeding and armed with a knife, police said.
The initial fire that prompted the search for Dolak occurred at an apartment complex in the 16700 block of Crenshaw Boulevard at about 12:15 a.m.
Dolak allegedly broke into his former girlfriend's apartment and threatened to kill her with a knife, according to Torrance police Sgt. Robert Watt.
When the girlfriend ran out of the apartment to get help, Dolak allegedly started the fire and fled, leaving the couple's 2-year-old son inside "to burn to death," Watt said.
The boy was rescued from the home by firefighters and transported to an area hospital where he was treated for smoke inhalation. He was listed in stable condition, Watt said.
Dolak fled the scene and was threatening people nearby, according to Torrance police. He then allegedly set a fire at his mother's home in the 3200 block of Opal Avenue at about 2 a.m., authorities said.
No injuries were reported in the second fire. After that incident, officers contacted Dolak, who said by phone that he planned to kill his family and would kill police as well, Watt said.
He was a "danger to the public, a danger to the family, and a danger to the officers," Watt said.
Officers were "scouring the area" for Dolak by going door to door, Watt said, when a man matching his description was found Thursday afternoon in a woman's restroom at Madrona Middle School, near the Opal Avenue home. It was there that Dolak was seen bloody and with a knife.
After a foot pursuit, "an officer-involved shooting ensued; the suspect, Mr. Dolak, was pronounced dead at 1:35 p.m.," Watt said at a news conference at 3:30 p.m.
"I don't know what happened on the confrontation between officers and Mr. Dolak, but apparently it turned into deadly force," Watt said.
Aerial video showed Dolak's body in a field cordoned off with caution tape; many police officials were nearby. The school was closed for the Christmas holiday, Watt said.
The police investigation was continuing. Detectives had been in contact with Dolak's mother, Watt said.
The Los Angeles County District Attorney's Office was also investigating.
There is no documented history of mental illness for Dolak, but he had had multiple contacts with officers in relation to past domestic disputes, Watt said.
KTLA's Melissa Pamer and Juan Flores contributed to this story.