This is an archived article and the information in the article may be outdated. Please look at the time stamp on the story to see when it was last updated.
A suspicious object was reported near a bank in Fullerton on Friday morning, prompting the temporary evacuation of several nearby businesses, authorities said.
The object was later determined to be non-threatening, said Sgt. Jeff Corbett of the Fullerton Police Department.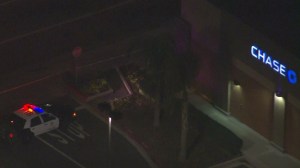 Officers responded to a Chase Bank in the 1000 block of West Orangethorpe Avenue after a call from an unknown person at 4:49 a.m., Corbett said.
A hazardous device squad from the Orange County Sheriff's Department responded to the scene, the agency said on Twitter.
The intersection of West Orangethorpe Avenue and Euclid Street was closed for about two hours and the public was advised to avoid the area, police said.
All lanes were reopened after bomb squad personnel that the reported item was nothing more than exposed wires, the Police Department said.