This is an archived article and the information in the article may be outdated. Please look at the time stamp on the story to see when it was last updated.
Firefighters extinguished a dramatic fire Sunday after an SUV erupted in flames during a test drive in Anaheim, authorities said.
No one was injured in the incident, which occurred in a residential neighborhood.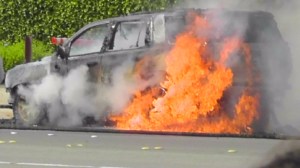 The Anaheim Fire Department responded about 2 p.m. to the 2500 block of East Wagner Avenue (map) after several 911 callers reported the fire, said Lt. Tim Schmidt of the Anaheim Police Department.
The blaze, which engulfed a 2015 GMC Yukon, was knocked down within minutes, according to police.
"It appeared that the car had some oil leak or some fluid leaking prior, as they were doing the test drive," Schmidt said. "They lost complete control of the vehicle but were able to safely park it and pull it to the curb.
"When they got out of the vehicle, it shortly started having smoke and then quickly went into flames, as you can see on the video," Schmidt said.
Multiple witnesses used their mobile phones to capture footage of the blaze, which caused the SUV's tires to burst and sent black plumes of smoke into the air.
"Everyone kept thinking: Is it going to explode one more time? Because it looked like the gas tank was still there, intact," said Sergio Luna, who witnessed the incident. "So that was the big fear: If it does go off, what's going to happen?"
According to authorities, the Yukon was parked in a location that likely contributed to the lack of injuries and additional damage.
"We're very lucky that no one got hurt, and it was in an area that … was safe," Schmidt said. "If there was any place that was going to be safe, it would be this area. It's very open. It worked out for us."
Christina Pascucci and Feven Kiflegiorgis contributed to this report.