This is an archived article and the information in the article may be outdated. Please look at the time stamp on the story to see when it was last updated.
A swarm of small earthquakes hit a town near the U.S.-Mexico border Saturday and continued into Sunday.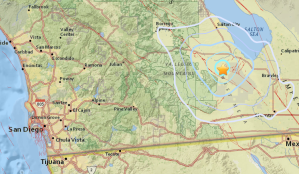 Dozens of quakes were reported in and around Ocotillo Wells in Imperial County, six of them larger than a magnitude 3, according to the U.S. Geological Survey.
The largest were felt in a scattering of locations in Imperial, San Diego and Riverside counties, according to the USGS.
Seismologist Lucy Jones said on Twitter that the quakes were occurring along the southern end of the San Jacinto fault system. She said the location was not far from the site of the 1987 Superstition Hills quake, which measured 6.6 magnitude.
Read the full story on LATimes.com.