This is an archived article and the information in the article may be outdated. Please look at the time stamp on the story to see when it was last updated.
Residents in a Riverside neighborhood were asked to evacuate their homes on Friday after an alleged burglar barricaded himself in one of the houses, according to Riverside police.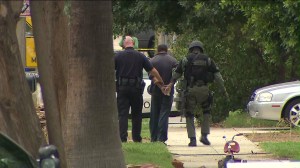 A SWAT team was called to the home in the 1900 block of Marlborough Avenue near East La Cadena Drive to assist in the standoff.
Plain-clothes detectives responded to an initial 7:30 a.m. call about a burglary in progress, and when they arrived, the man fled, according to a news release issued Friday afternoon by the Riverside Police Department.
The suspect, later identified as 38-year-old Andres Lugo of Riverside, approached a resident who was outside her home with a toddler, saying police were chasing him, the news release stated.
Lugo allegedly entered the woman's home and called 911 to say he was armed with a handgun, according to police. Authorities set up a perimeter around the home and broadcast into the house, attempting to get Lugo out, police said.
He exited the house and was taken into custody without incident at about 12:40 p.m., police said.
Video from the scene showed officers talking to a man as he sat on the front lawn of a home. He was led away in handcuffs a short time later.
Lugo was booked into Robert Presley Detention Center in Riverside on suspicion of burglary, attempted burglary, felony vandalism and being under the influence of a controlled substance, police said.