This is an archived article and the information in the article may be outdated. Please look at the time stamp on the story to see when it was last updated.
A battery suspect who was barricaded inside a home in Long Beach on Sunday, prompting the SWAT team to respond to the scene, was taken into custody, authorities said.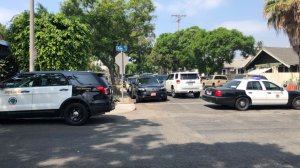 Officers were dispatched to the 900 block of Gaviota Avenue and determined that a battery had occurred, according to the Long Beach Police Department.
"The investigation revealed the suspect was known to the victim," Detective Jennifer Arzola told KTLA in an emailed statement.
An officer confronted the unidentified suspect, who pointed a gun at him and fled into a residence, Arzola said.
Police made numerous public address announcements to try to get the individual to come out, but there was no response, according to the statement.
Authorities believed he was still inside the home and armed, which prompted the activation of the SWAT team, Arzola stated.
SWAT personnel located the suspect inside the residence with the "assistance of a K-9 contact," the detective said. The suspect was subsequently taken into custody.
No further details were released.
KTLA's Steve Grandado contributed to this story.