This is an archived article and the information in the article may be outdated. Please look at the time stamp on the story to see when it was last updated.
A man and woman were found dead Saturday afternoon inside a high-end boutique in downtown San Clemente after reports of a shooting, authorities said.
A preliminary investigation indicated the deaths were the result of a murder-suicide, the Orange County Sheriff's Department said in a press release. A handgun was recovered at the scene.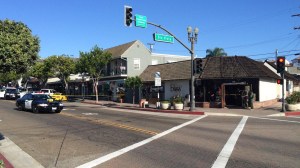 No one was being sought in connection with the incident, which occurred at Bliss Boutique, in the 100 block of Avenida Del Mar (map), said sheriff's Lt. Jeff Hallock.
Deputies responded to the clothing store about 2:01 p.m. and were contacted by an employee who said a shooting was taking place inside the business, the OCSD said. The department's SWAT and crisis-negotiation teams were then summoned to the scene.
Erin Delaney said she was near the shop shortly after law-enforcement personnel arrived.
"When we walked around the corner, we met the girl that was the one witness," Delaney said. "She was talking to one of the police officers about how the man walked in with a briefcase and … walked to the owner, who was in the back. Then she heard six gunshots and grabbed her cellphone and ran."
About 2:40 p.m., specially-trained deputies entered the building and discovered the bodies of the man and woman, Hallock said. It was not immediately clear how the two people may have been related. Their names were not released, pending notification of family.
The intersection of Avenida Del Mar and North Ola Vista was closed as an investigation continued.
The 3,000-square-foot store carries "a mix of established and emerging designers," according to its website.
Anyone with information about the incident is asked to call the Sheriff's Department at 714-647-7000.