This is an archived article and the information in the article may be outdated. Please look at the time stamp on the story to see when it was last updated.
A man who was threatening grocery store shoppers with a shard of glass was shot and killed by a security guard Tuesday on a busy street in Sylmar, officials said.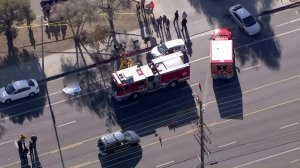 The call of a possible shooting came in from the 13600 block of Foothill Boulevard at 3:41 p.m., Los Angeles Police Department spokesman Officer Tony Im said.
A man was threatening customers and employees of a Vons Grocery Store with a shard of glass and said he was going to take a hostage, witnesses said. He was described as a 45-year-old, balding white man in a black shirt and black pants and may have been homeless.
Other shoppers saw that the man was bleeding from his arms and offered to help, but he walked out of the store leaving behind a trail of blood, witnesses said. Outside he knocked on the window of the the security guard's patrol car and the guard discharged his weapon.
" I just saw a guy, who was clearly not in the right state of mind, walking toward the security guard, and the security guard, without warning, just shot him in the head," a witness, who did not want to be identified, told KTLA.
"It all happened so fast, it seemed like he didn't even really give the guy any sort of chance."
After the shooting, a crowd of people could be seen at the scene, where the man's body lay under a sheet in the bike lane across from the Starbucks, which was roped off with yellow police tape.
San Fernando police warned people to avoid the area of Hubbard Street and Foothill Boulevard.
Police found the unidentified man's car with his dog inside in a nearby parking lot.
The Los Angeles County District Attorney's Office will decide whether or not the security guard will face any charges in the incident.
KTLA's Nidia Becerra contributed to this article.